Meet the Team
Dr. Shawn Kromrey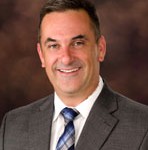 Dr. Shawn graduated with a Doctor of Chiropractic degree at the age of 23. "What a sense of accomplishment! By the time I was 24, I had achieved my goal of opening my own practice."
It's wonderful when patients experience and realize that chiropractic is not just for pain relief; it can prevent certain health problems and bring long-term wellness benefits, too. More than half of our patients realize the wellness benefits and have been coming to us for over 15 years.
"When I started my practice in Cadott in 1989, most people in the area were unaware of or skeptical about chiropractic care."

We as a team look forward to meeting you and helping you achieve your health goals. Contact us to make an appointment today.
---
Kromrey Chiropractic | (715) 289-5000